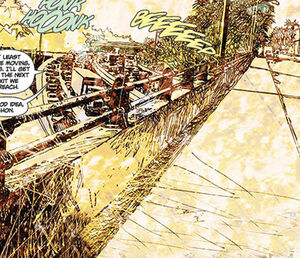 Miami
is a city located on the Atlantic coast in southeastern Florida and the county seat of Miami-Dade County, the most populous county in Florida and the eighth-most populous county in the United States with a population of 2,500,625. The 42nd largest city proper in the United States, with a population of 399,457, it is the principal, central, and most populous city of the South Florida metropolitan area, and the most populous metropolis in the Southeastern United States. According to the US Census Bureau, Miami's metro area is the seventh most populous and fifth-largest urban area in the United States, with a population of around 5.5 million.
During the early stages of the KV outbreak, Miami was one of the first cities the Krippin Virus spread to after the quarantine of Manhattan.
A large number of people were infected. They turned into Darkseekers after sunset and ran rampant.
Presumably, Miami was eventually wiped out by the virus, leaving only the Darkseekers to roam the desolate streets.