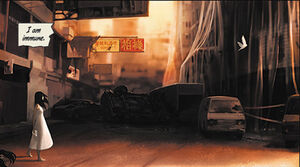 Hong Kong
is one of two special administrative regions (SARs) of the People's Republic of China (PRC), the other being Macau. A city-state situated on China's south coast and enclosed by the Pearl River Delta and South China Sea, it is renowned for its expansive skyline and deep natural harbour.
With a land mass of 1,104 km2 (426 sq mi) and a population of seven million people, Hong Kong is one of the most densely populated areas in the world. Hong Kong's population is 95 percent ethnic Chinese and 5 percent from other groups. Hong Kong's Han Chinese majority originate mainly from the cities of Guangzhou and Taishan in the neighbouring Guangdong province.
Hong Kong was apparently destroyed during the KV outbreak, leaving Jinghua Xu as the only immune survivor.
At dawn one day, Jinghua finally gave up hope and committed suicide, meaning that Hong Kong now completely belongs to the Darkseekers.
Community content is available under
CC-BY-SA
unless otherwise noted.