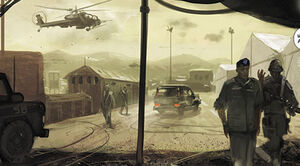 Fort Lee
is a census-designated place (CDP) in Prince George County, Virginia, United States. The population was 7,269 at the 2000 census.
Fort Lee is a United States Army post and headquarters of the U.S. Army Combined Arms Support Command (CASCOM)/ Sustainment Center of Excellence (SCoE), the U.S. Army Quartermaster School, the U.S. Army Ordnance School, The U.S. Army Transportation School the Army Logistics University (ALU), and the U.S. Defense Commissary Agency (DeCA). A U.S. Army Forces Command (FORSCOM) unit, the 49th Quartermaster Group (Petroleum and Water), is stationed there.
Fort Lee also hosts two Army museums, the U.S. Army Quartermaster Museum and the U.S. Army Women's Museum. The Army's Ordnance Museum has plans to establish a collection preservation site at Fort Lee. The fort is named for Confederate General Robert E. Lee.
During the outbreak of the Krippin Virus, when Colorado was overrun by Darkseekers, Fort Lee declared Colorado a hostile territory and had the entire state's power grid shut down.
Presumably, Fort Lee was eventually destroyed by the virus, along with the rest of the world.
Community content is available under
CC-BY-SA
unless otherwise noted.