"They called it the Alcatraz of the Rockies. ADX Florence; the most secure prison facility in the United States. It housed 430 inmates; gang leaders, serial killers, mob bosses. The worst of the worst!"
―John Edward Lord on ADX Florence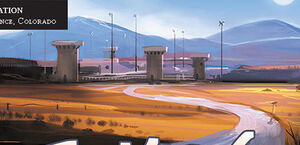 The
United States Penitentiary Administrative Maximum Facility
(
ADX
) is a supermax prison for men that is located in unincorporated Fremont County, Colorado, United States, south of Florence. It is unofficially known as
ADX Florence
,
Florence ADMAX
,
Supermax
, or
The Alcatraz of the Rockies
.
It is operated by the Federal Bureau of Prisons, a division of the United States Department of Justice. ADX, a part of the Florence Federal Correctional Complex (FCC), houses the prisoners who are deemed the most dangerous and in need of the tightest control of all the prisoners within the United States Federal Prison System.
John Edward Lord was imprisoned in ADX Florence in 2003 for his terrorist acts.
In 2009, during the outbreak of the Krippin Virus, the entire prison was evacuated, except for John, who warden Halloran ordered be left behind at the prison to die.
John spent three days locked in his cell, alone with no food or water. When Colorado's entire power grid was shut down, all of ADX Florence's electronic locks deactivated, freeing John. After drinking from the prison's water supply and treating a head injury he suffered in his cell, John stocked up on ammunition and fled ADX Florence in a stolen SUV.
The following night, John retreated back to ADX Florence, pursued by a mob of Darkseekers, where he engaged the creatures in a last stand.
Community content is available under
CC-BY-SA
unless otherwise noted.